Candy Chui and Grenda are
Mabel's
? best friends who she first met at during a party at the Mystery Shack . Candy and Grenda are both considered unpopular by Pacifica Northwest and the more social kids, but they have flaws that Mabel overlooks; Candy is shy and insecure, and Grenda has a deep, masculine voice.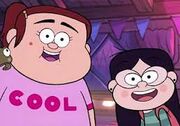 Ad blocker interference detected!
Wikia is a free-to-use site that makes money from advertising. We have a modified experience for viewers using ad blockers

Wikia is not accessible if you've made further modifications. Remove the custom ad blocker rule(s) and the page will load as expected.